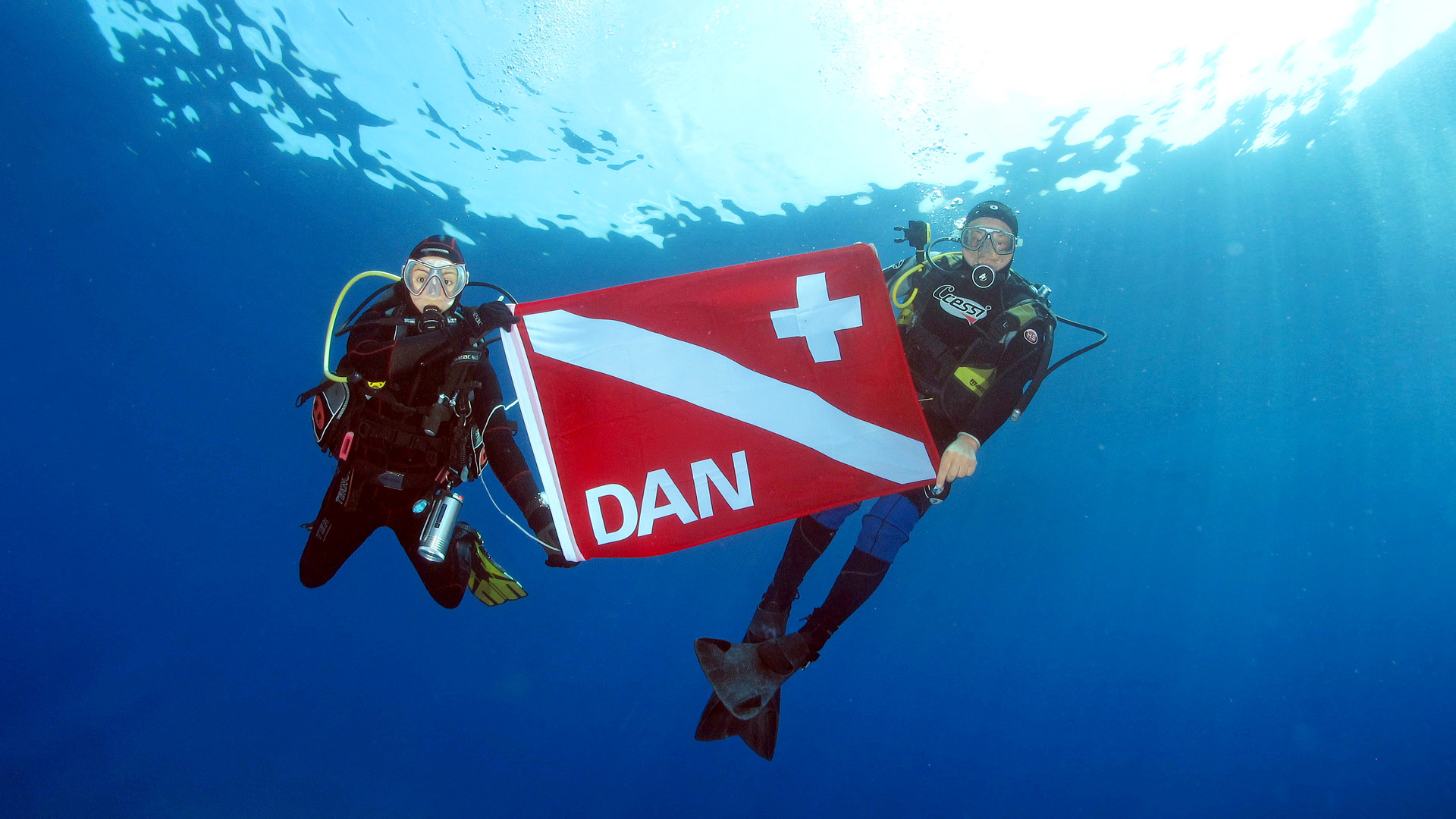 Partner Program
Promote DAN: discover our Partner Program
Our partners are people and organisations who actively promote our network. DAN Partners act as our brand ambassadors.
They promote diving safety, help spread the word of our mission and share safety awareness campaigns. Partners help create a safer diving community and we reward them for it.
If you share our mission and would like to make good use of our materials, become a Partner today.
BENEFITS OF BECOMING A PARTNER

Use the official DAN Partner logo
As you join the DAN Partner Program, you are entitled to use the official DAN Partner logos.

Promote DAN and earn commissions
You earn 8€ for every member joining DAN.
Upon reaching the 200€ threshold you will receive your payment directly via bank transfer.

Get exclusive awards and benefits
At the end of the year, Partners that have promoted the highest number of Members will win the DAN Partner of the year and Business Partner of the year awards.
Winners will be awarded, according to their Partner profile, a Pro Silver Membership and a free enrolment as Business Partner.
BECOME A PARTNER TODAY
The DAN Partner Program includes two Partnership profiles. Choose the one the best fits you!
INCLUDES
DAN Digital Marketing Toolkit
Get promotional materials to let others know about benefits and service that come with the DAN Membership.
NO PARTICIPATION FEE
AUTOMATICAL RENEWAL
Become a Partner
ALL BENEFITS INCLUDED IN DAN PARTNER PROFILE, PLUS:
Get your business listed on the DAN Website
We will publish your center/shop/school contact details and logo in the DAN Europe website.
Save up to 50% on purchases in the DAN SHOP
You can save up to 50% on most items in the DAN Shop.
Sell DAN products
Resell "DAN Training" and "DAN Safety" materials to your customers.
Get special deals while offering DAN courses
Order student kits at special prices.

PARTICIPATION FEE: €150
Business Partnerhips expire on December 31 and can be renewed by paying the annual fee.
Become a Partner

Commissions can be retained for the upcoming year
If your promoted members renew within three months past the expiry date, you will automatically be granted 4 € – provided the member was not promoted by another Partner. The system will recall your Partner code and will show it up in the right field during the renewal process.

Commissions earned do not expire
Commissions earned by Dec. 31st that do not exceed €200 are automatically converted into DAN membership credits.

Customised Web Link to earn commissions easily
As soon as you complete your registration, you will receive a HTML web-code tracking your partner number. Place the code on your website, and the logo will appear. Anybody using it to sign up or renew their membership will help you earn commissions.
Immediate activation in your MyDAN area
As soon as you complete your registration and get your DAN ID, you will be able to activate your Partnership.
PARTNER OF THE YEAR AWARDS
The Partner of the Year awards recognise those Partners who deliver outstanding results and have successfully promoted DAN products and services during the previous year.
Both divers and dive operations can join the DAN Europe Partner Program. They obtain credits by earning points, promotional materials, the use of the DAN Partner logo, and of course prices and rewards! We will continue to collaborate with our Partners to let divers know the good services DAN has to offer to the dive community. DAN congratulates and deeply thanks this year's winners, as well as all active Partners for their work and commitment.
The winners of the 2022 DAN Europe Partner of the Year awards are:
DAN Business Partner
Tauchsportcenter Esslingen - Denkendorf, Germany
Tauchsportcenter Esslingen receives the Business Partner of the Year Award Plate, and a free Business Partner enrolment for the current year.

Tauchsportcenter Esslingen is one of the largest and best known dive centres in the Stuttgart / Esslingen area, Southwest Germany. It was founded in 1983 (just like DAN Europe!) as a shop of 50 sq m. Since 2009 it operates in a larger area of 600sq m hosting a diving shop, an SSI diving school (Diamond Instructor Training Center), a professional maintenance workshop and a diving travel agency. The centre features an in-house diving pool of 6 metres depth, which is used for all water activities. With more than 25 highly trained dive professionals, TSC offers a versatile and comprehensive range of dive courses, from beginners to instructors, as well as DAN Training first aid courses. The centre regularly organizes diving weekends to Austria and Switzerland, and accompanied tours to international destinations. In 1998 the Tauchsportcenter created its own TSC Club, offering its members a number of benefits, including DAN Membership and insurance.
TSC & DAN: a great partnership!

DAN Partner
David Van Eerdenbrugghe - Waterloo, Belgium
David Van Eerdenbrugghe received a free Pro Silver membership.
Dive instructor, DAN Member since 2011, David has promoted 156 memberships throughout 2022. Together with two associates, David runs Dive Factory, a renowned dive operation in Waterloo, Belgium, featuring a wide range of dive courses, a Shop with all major dive brands on sale or on rental (scooters, drysuits, twinsets, decos, side mount), and a maintenance centre for dive cylinders and repair centre for wet & dry suits.

Special Partners are individuals or organisations wishing to collaborate with DAN in a number of fields, i.e. spreading information about DAN's activities and services, or helping propose DAN's products to divers. Special Partner profiles include
Corporate Partners
Training agencies, online and printed media, research institutions, universities and similar organisations.
Travel Partners
Travel agencies and tour operators.
Broker Partners
Brokers.
If you belong to one of the above mentioned profiles, please drop us an e-mail
CONTACT US
The Short Term Dive Protection and Short Term Travel Agency programs are designed for diving centers and travel operations wanting to offer insurance covers to their customers through plans of variable duration for diving medical emergencies.