If you have any question, visit our FAQ page first.
If you cannot find an answer, please use the form to send DAN an email: choose the area/dept. you wish to get in touch with and we will get back to you as soon as possible.
---

EMERGENCY

MEDICAL ADVICE
Specialised medical advice is reserved to active DAN Members.
E-mail messages are normally answered Monday through Friday (9 am to 5 pm - CET), except on 1/1, 6/1, Easter Monday, 25/4, 1/5, 2/6, 15/8, 1/11, 8/12 and 25-26/12. We understand the need to get your questions answered quickly. We typically respond to you within 2 working days. Sometimes, it may take us longer to get you a complete answer. If you don't hear from us within 5 working days, please contact us again: your e-mail may not have been received.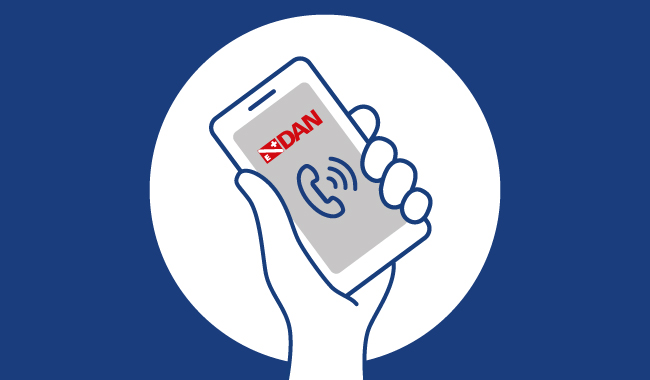 To get in touch with the DAN Continental Operations office, please call the national numbers below.
You only be charged at a local call rate

Services is available in English, French, German, Dutch, Italian, Spanish and Polish

This is a VoIP-based service. Call quality depends on the performances of the internet connection
CHOOSE COUNTRY
or AUTO DETECT
DAN EUROPE
Territory: Geographical Europe, the countries of the Mediterranean Basin, the countries on the shores of the Red Sea, the Middle East including the Persian Gulf, the countries on the shores of the Indian Ocean north of the Equator and West of India and Sri Lanka, as well as the related overseas territories, districts, and protectorates
Postal Address: Continental Operations Office: C/da Padune, 11 - 64026 Roseto - Italy
Registered Address: DAN Building, Level 4, Sir Ugo Mifsud Street, Ta' Xbiex, XBX 1431, Malta
DAN
America
Territory: United States and Canada, with regional IDAN responsibility for Central and South America, the Caribbean, Polynesia, Micronesia and Melanesia (except Fiji), and any other area not designated for the other DAN entities
Address: The Peter B. Bennett Center, 6 West Colony Place, Durham, NC 27705, USA
DAN
Southern Africa
Territory: Austral Africa, Comoros, Madagascar, Seychelles Islands, plus Kenya and Zanzibar (for residents only, European expatriates refer to DAN Europe).
Address: DAN-SA Building, Rosen Office Park, Cnr Invicta & 3rd Roads - Halfway Gardens - Midrand
DAN
Japan
Territory: Japanese mainland and islands, with regional IDAN responsibility for Northeast Asia-Pacific
Address: TDAN JAPAN/Japan Marine Recreation Association Kowa-Ota-Machi Bldg,2F, 47 Ota-machi 4-Chome Nakaku, Yokohama City, Kagawa 231-0011 Japan
DAN
Asia Pacific
Territory: Australia and New Zealand, with regional IDAN responsibility for Papua New Guinea, Fiji, Indonesia, Malaysia, Vietnam, Singapore, Cambodia, Myanmar, Philippines, Vanuatu, Solomon Islands, Brunei, Thailand, Hong Kong, Korea, China and Taiwan
Address: 49A Karnak Rd, Ashburton, Victoria 3163, Australia.
Postal Address: PO Box 384 Ashburton, Vic. 3147, Australia.