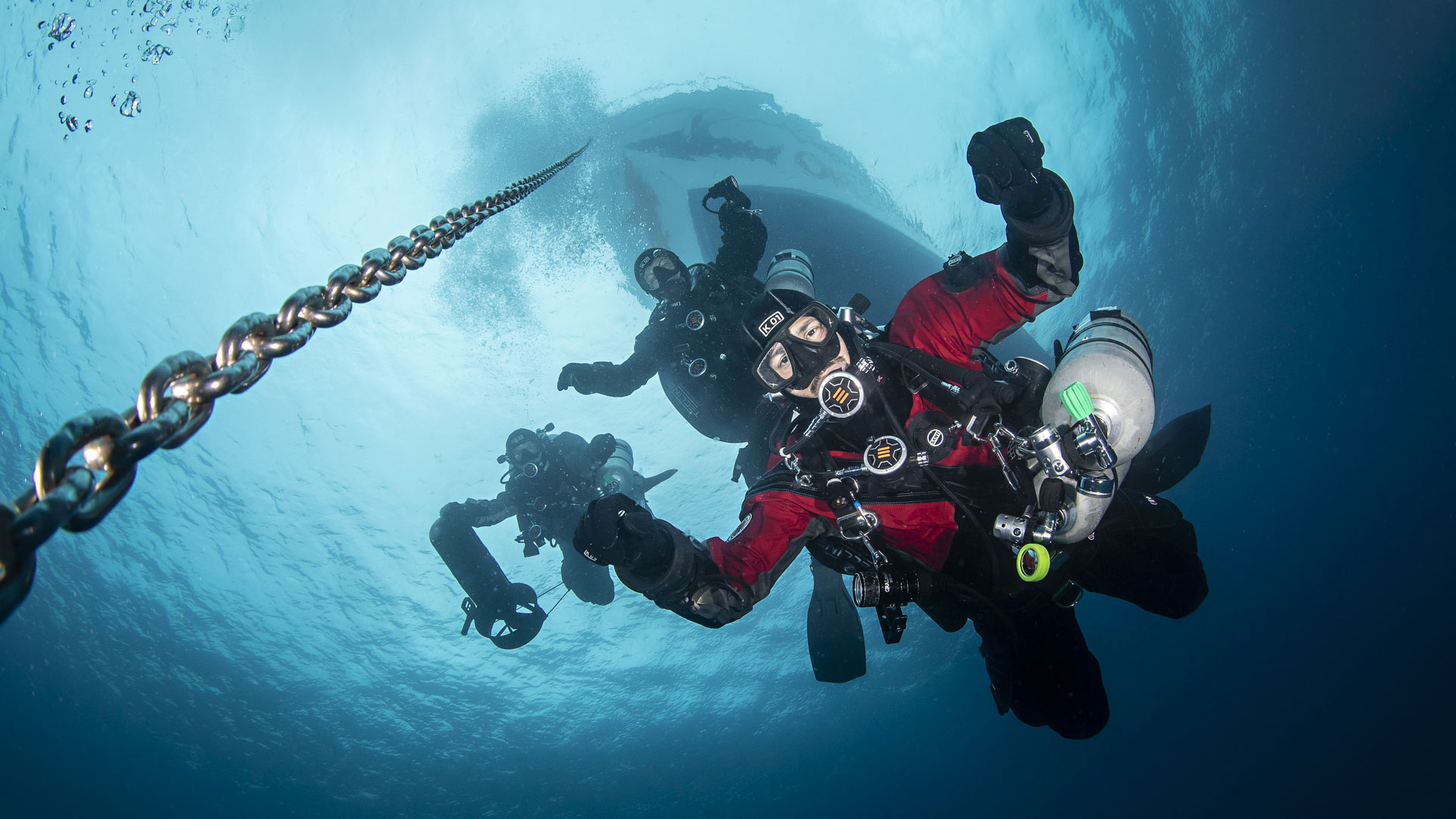 Professional Diving Insurance
The best protection for you as a diver, dive instructor, divemaster or dive guide.
WHY A PROFESSIONAL INSURANCE
In addition to a good insurance covering personal accidents and travel, as a dive pro you want to protect your professional activity with liability insurance. Even minor mishaps can result in large financial burdens. Whether facing a legitimate claim or dealing with a lawsuit that ultimately finds you not liable, this coverage can offer benefits to everyone involved.
WHAT IS COVERED?
All Pro Plans are designed to cover you should the unforeseen happen, during recreational or professional diving - be it SCUBA, freediving, technical or rebreather diving - everywhere in the world.
There are three different Pro Plans on offer (Bronze, Silver, Gold). All of them include €4,000,000 professional liability cover and legal defense. Extent of other benefits depends on the plan you choose.
In some countries outside the European Union, the only option available is the Pro Member plan, which is equivalent to the Pro Silver.
Get a quote
BENEFITS INCLUDE
FOR YOU
Alarm Centre and management of medical emergencies 24/7
Worldwide emergency medical treatment, including hyperbaric therapy and hospitalisation
Emergency medical evacuation, including air ambulance
Death or permanent disability
Medical cover for non-diving accidents and unexpected illnesses abroad
Annual DAN Membership
FOR YOUR STUDENTS
Access to DAN's Alarm Center
This represents a short summary of cover, featuring some of the many benefits available.
Exclusions and conditions may also apply, and cover may not be available in all countries.
Get a quote
FREE INSURANCE FOR YOUR STUDENTS
Protect your entry-level dive students with a dedicated accident cover. You can register your students on your MyDAN, so as to provide them with DAN's assistance during the course.

HOW TO ACTIVATE STUDENT INSURANCES
Log in to your MyDAN
Go to > Insurance
Add and select a new user or select an already registered user
WHAT IS COVERED
Alarm Center and management of medical emergencies 24/7
Worldwide emergency medical treatment, hyperbaric therapy and hospitalization included (€ 15,000.00)
Emergency medical evacuation
Search & rescue of the missing diver (€ 2,500.00)
PERIOD OF INSURANCE
Inception date
Upon registration of the student in the MyDAN section of instructor
Date of expiration
Upon diving certification (max. 90 days)
Please read carefully the insurance policy.
DETAILS OF COVERED COURSES
MAX DEPTH 18m*
DSD, Try Scuba, Open Water, 1° degree, 1 Star CMAS, GUE REC 1 and GUE Fundamentals, and equivalents.
* in any case, not beyond the maximum depth allowed by your teaching organization
Freediving
courses (incl. spearfishing)
MAX DEPTH 30m*
1° degree, spearfishing 1° level, 1 Star CMAS, AIDA 1 Star/2 Stars, Apnea Academy First Level, SSI Free Diving Basic and Apnea level 1, or equivalents.
* in any case, not beyond the maximum depth allowed by your teaching organization
FREQUENTLY ASKED QUESTIONS
ARE MY STUDENTS AUTOMATICALLY COVERED IF I HAVE A PRO MEMBER PLAN?
No, your students are not automatically covered. However, you can cover for free a number of your entry-level students by registering them on your MyDAN. Furthermore, you can purchase specific insurance plans for your scuba and freediving students attending entry level, advanced and specialty courses as well as freediving workshops.
View PRO FAQs
DOES MY LIABILITY INSURANCE STAY VALID IF I AM NOT REGISTERING ANY STUDENT?
Yes, it does. In fact, the student plans have nothing to do with the professional liability insurance of your Pro Member plan. Whether you decide or not to provide your students with an insurance coverage, this does not affect your liability cover (as long as there is one).
View PRO FAQs
IS A STANDARD TRAVEL INSURANCE INCLUDED?
DAN Europe insurance plans feature a coverage for medical emergencies abroad, however it is not a full travel or health insurance. The cover for NON-diving related medical emergencies is only valid when you are travelling abroad, for a number of days, which varies according to the plan you have chosen.
READ MORE
IMPORTANT RECOMMENDATIONS
Age limit
Diving is a safe sport at any age, however risks can increase for older enthusiasts. If you are 75 or older, to complete your application, you have to submit a medical certificate stating:
your fitness to dive
your current health conditions
any medication you take and its dosage
Send your certificate to [email protected] so that the DAN Europe specialists can get back to you within a few days.
Recreational Diving
DAN Europe recommends gas partial pressures up to a maximum of 1,6ATA Oxygen and 5,6ATA Nitrogen in the breathing mixture.
Technical Diving
DAN Europe recommends gas partial pressures of 1,4 ATA Oxygen or up to a maximum of 1,6ATA Oxygen and 3,95ATA Nitrogen in the breathing mixture and not to exceed 130 metres of depht.
On written submission of a full dive profile and proposed safety and support measures insurers may consider providing specific per dive insurance for any dive exceeding 130 metres.