Restart a Heart Day, 16 October 2022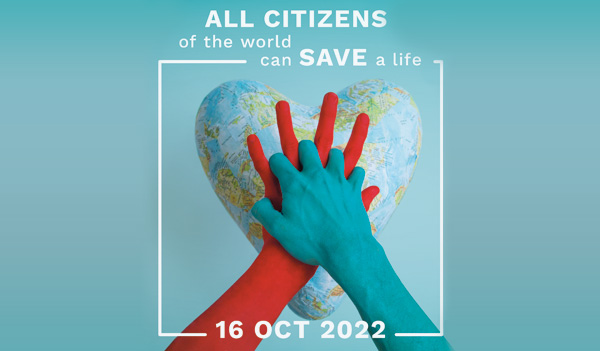 You can save a life!
Every 16th of October, national resuscitation councils across Europe hold various national events to champion the goals of Restart a Heart Day. It's the right time to learn more about CPR (Cardiopulmonary resuscitation) and the use of AED (Automated External Defibrillator). Organised by the European Resuscitation Council (ERC), the event intends to raise awareness about cardiac arrest and help people to learn CPR, providing them life-saving skills and the confidence to use them.
Why is CPR important?
Performing CPR can more than double the chances of survival in some cases.
CPR on a person whose heart has stopped beating can help to keep blood and oxygen flowing through the body to vital organs, including the brain. This can help keep the person alive until emergency medical help arrives.
What can you do?
Learn CPR with DAN Training.
DAN Training First Aid Programs follow the latest ERC guidelines providing specific instructions about how resuscitation should be practiced, and take into account ease of teaching and learning, as well as the science behind.
| Basic Life Support & Defibrillation - DBLS(D) | First Aid |
| --- | --- |
| This course trains to resuscitate an adult victim of Sudden Cardiac Arrest, in order to prevent anoxic brain damage occurring immediately after the event. In addition to Cardio Pulmonary Resuscitation (CPR), external bleeding, shock management and First Aid in case of Foreign Body Airway Obstruction, the course also trains to use an AED (Automatic External Defibrillator). | The DAN First Aid course is designed for students already certified as Basic Life Support (BLS) providers who want to learn first aid techniques to be used in case of injuries or illnesses that do not directly threaten the survival of the victim. |
| | |
CPR-related items