MPA ENGAGE, the EU project fighting climate change in the Mediterranean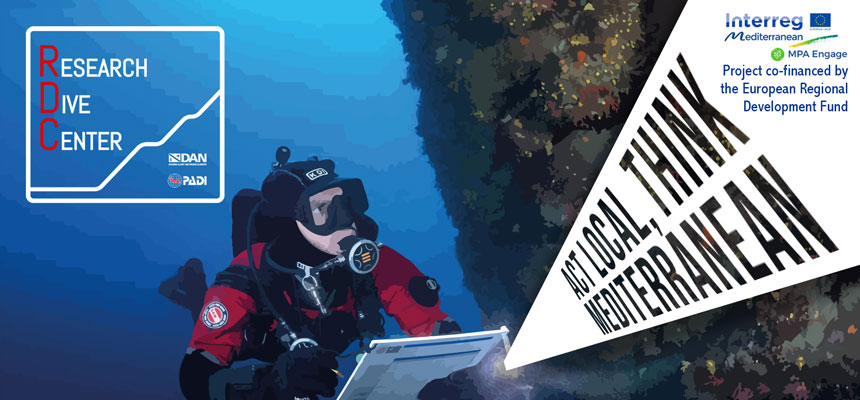 12 November 2020 - DAN Europe is thrilled to participate in MPA ENGAGE, the European project focused on the effects of climate change in the Mediterranean, involving seven Marine Protected Areas (MPAs) in six countries bordering the so-called Mare Nostrum : Albania, Croatia, France, Greece, Italy, Malta, and Spain.
The project took off in November 2019, and will last three years. Activities include monitoring, vulnerability assessment, and Citizen Science initiatives within the MPA area. The results obtained will allow the identification of best practices to be capitalised on at European level.
The project is led by the Institut de Ciències del Mar of the Spanish Research Council (CSIC), in collaboration with a number of partners, including universities, research institutes, local and national public institutions, private sector representatives and NGOs. The involvement of citizens, divers and fishermen, through specific actions, is also foreseen.
Here are the main objectives of MPA-ENGAGE:
Increase knowledge of coastal marine ecosystems, and understand their interactions with human activities (including their impact) and the effects of climate change.
Implement standardised protocols to monitor the effects of climate change.
Assess the vulnerability of marine ecosystems and socio-economic activities to climate change (preparatory action to draft adaptation plans).
Involve local stakeholders and promote Citizen Science activities.
DAN Europe's role is to involve recreational divers in Citizen Science actions, led by scientific organisations in collaboration with Marine Protected Areas. DAN Europe, in partnership with PADI, will use its extensive experience in the diving industry and its technical expertise to create a new course in Marine Citizen Science that includes training standards, instructor guidelines, and teaching materials.
Project partners
MPA Portofino, Brijuni National Park, Calanques National Park, Polytechnic University of Marche, Anthon Dohrn Zoological Station, Zakynthos National Park, MPA Tavolara Punta Coda Cavallo, Region of Catalonia, Region of Liguria, MIO-ECSDE, University of Vigo, Association for the protection of aquatic fauna of Albania.