Excellence in dive safety: first DAN HIRA3 certification awarded to Salvataggio Lugano (Switzerland)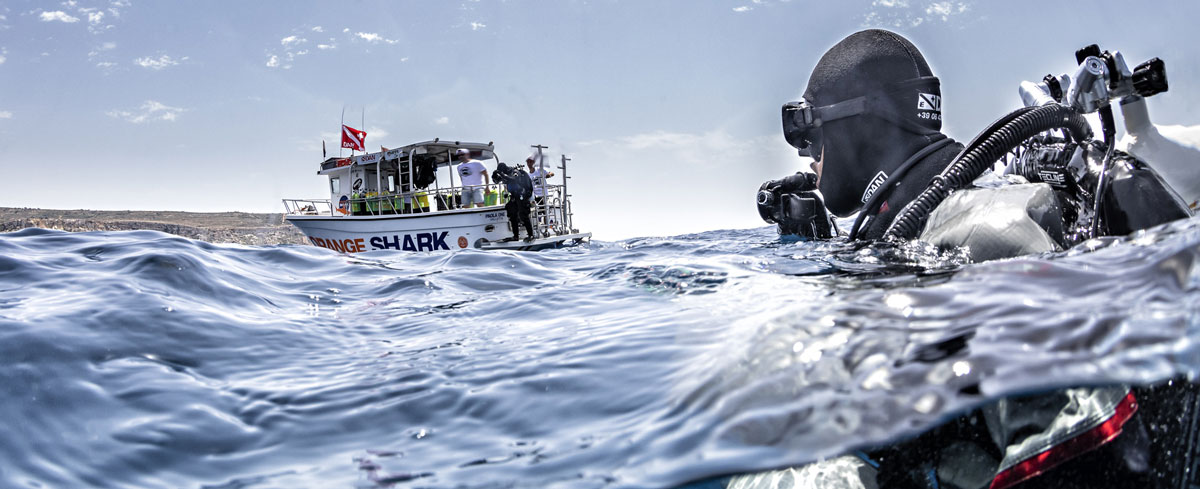 Lugano, August 2nd, 2021 - The Swiss Lifesaving Society (SSS) - Lugano Section has been awarded with one of the highest recognitions in the field of underwater safety.
The HIRA3 certification, issued by DAN (Divers Alert Network) Europe, was officially presented during a public conference held last July 25th in Lugano, Switzerland, and attended by DAN Europe specialists, SSS Lugano staff, local authorities, as well as press and dive industry representatives.
The certification comes as a result of several years of collaboration between DAN Europe and SSS Lugano, and a continuous work of counselling, covering all aspects of management of a diving center, focused on risk reduction and mitigation: first aid training, use of appropriate emergency equipment, operational procedures, emergency action plans, and more.
"Despite recent technological development within the industry and the use of increasingly high-performance and safe equipment, diving accidents continue to happen. An organised risk management, as it happens in the aerospace and health sectors, does not currently exist in the diving industry. Our HIRA program aims to fill at least part of this gap - says Guy Thomas, Director of Safety at DAN Europe. "Here at SSS Lugano I found an optimal management of underwater operations, well-formulated procedures and effective control mechanisms. I would like to express my compliments to those who have worked hard over the past years to achieve this certification. We will continue to work in partnership with them so that we continue to build on these achievements." - Thomas concludes.

Patrick Tempobono (SSS Lugano Technical Commissioner and Deputy Chief of Operations) declares: "I did my best to increase the safety standards within our organisation, trying to follow step by step what is required by the HIRA program. This allowed to obtain the first certification in 2018, the second in 2019, and the third and highest now. We are very proud to be the first rescue organisation to receive this prestigious certification. Safety is something that should not be underestimated, and every single aspect must be taken care of. Nothing can be left to chance, and it is crucial to have up-to-date procedures and EAPs (Emergency Action Plans). During the inspection, every little detail was checked, every procedure verified. It was great to receive a feedback on all these aspects, knowing why we should abide to rules, and what could happen if this was not done. I would like to thank the whole SSS Lugano committee, instructors, pilots, divers and freedivers for their precious collaboration in achieving this certification. I also hope other diving operations will follow this example, contributing to diver safety.
HIRA, a global program
HIRA (Hazard Identification and Risk Assessment) is an international program, launched back in 2018 and led by the different DAN organisations present around the world (DAN America, DAN Europe, DAN Southern Africa, DAN Asia-Pacific, DAN Japan) and aims to significantly increase the safety standards of diving operations, reduce losses and prevent injuries. Currently in the territories of competence DAN Europe certifications issued are 285 for HIRA1 level against 576 requests, 18 certifications for HIRA2 on 88 requests, and a single certification (SSS Lugano) for HIRA3.
---
DAN Europe
DAN Europe exists to assist and protect all divers through the most extensive and reliable network of diving physicians worldwide. DAN offers the community numerous pioneering services, including the first-ever insurance designed specifically for divers. DAN conducts scientific research to better understand diving physiology and share that knowledge with the goal of making diving a safer, more accessible activity. DAN also develops first aid educational programs to preserve life, in and out of the water. We recognise the unique beauty and fragility of the Blue Planet, and act as ambassadors for more sustainable practices within our community.
SSS Lugano
The Swiss LifeSaving Society (SSS) - Lugano section, was founded in 1951 with the primary aim of training expert rescuers to intervene promptly in the event of an accident. Today, after 70 years of activity, the association has around 70 active members, including pilots, underwater and surface operators, freedivers, and dog walkers who are on call in case of emergency. The Society also has two boats and a fully equipped vehicle, which are used for emergency interventions, training, drills, pickets and various services. Rescue and diving courses are organised and are open to the public. Other activities include initiatives with schools and the institutions of the City of Lugano.
Press contact for DAN Europe
Cristian Pellegrini
[email protected]
Contact for SSS Lugano
Patrick Tempobono
[email protected]