Advanced Oxygen First Aid for Scuba Diving Injuries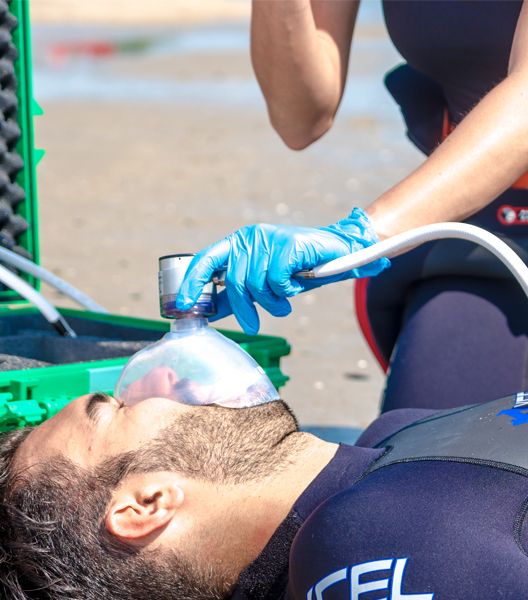 The DAN Advanced Oxygen first aid for Scuba Diving Injuries is designed for those who have already successfully completed the course DAN Oxygen First Aid for Diving Emergencies. It is designed to teach DAN Oxygen Providers to use a positive pressure valve (as the MTV100) and/or a bag-valve-mask (BVM)
DAN Advanced Oxygen first Aid for Scuba Diving Injuries
The DAN Advanced Oxygen first Aid for Scuba Diving Injuries is designed to enhance Basic Life Support (BLS) and Cardiopulmonary Resuscitation (CPR) skills and knowledge, to assist any diver who is not breathing. This program trains DAN Oxygen Providers to use a positive pressure valve (as the MTV100) and/or a bag-valve-mask (BVM) increasing the effectiveness of the resuscitation, thanks to high concentration of Oxygen administration.
Main objectives
Recognise injuries:
Heart attack
Asthma
Severe bleeding
Carbon Monoxyde poisoning
Advanced Oxygen Resuscitation
Manually Triggered Ventilator (MTV)
Bag Valve Mask (BVM)
Prerequisites
DAN BLS/BLSD Certification (or equivalent*) and valid DAN Oxygen First Aid For Diving Emergencies Provider.
(*) A basic CPR/BLS course is equivalent to a DAN BLS course if it follows the most recently ERC guidelines and the certification is issued by a recognised First Aid Authority.