Máte-li jakýkoliv dotaz, navštivte nejprve naši stránku FAQ.
Pokud nemůžete najít odpověď, při zasílání e-mailu do DAN použijte prosím níže uvedený formulář: zvolte oddělení, které chcete kontaktovat, my se vám ozveme, co nejdříve to bude možné .
---

EMERGENCY
Chcete-li kontaktovat zdravotní pohotovostní službu, klikněte sem.

ZDRAVOTNÍ PORADENSTVÍ
Specializované zdravotní poradenství je vyhrazeno pro aktivní členy DAN.
Na e-maily odpovídáme od pondělí do pátku (v době od 9:00 do 17:00 SEČ) - kromě následujících dnů: 1/1, 6/1, Velikonoční pondělí, 25/4, 1/5, 2/6, 15/8, 1/11, 8/12 a 25-26/12. Víme, že odpovědi na své otázky potřebujete rychle, proto zpravidla reagujeme během 2 pracovních dnů. Někdy to může trvat déle, jestliže se jedná o složitější odpověď. Kdybyste od nás nedostali odpověď během 5 pracovních dnů, kontaktujte nás znovu: možná jsme váš e-mail neobdrželi.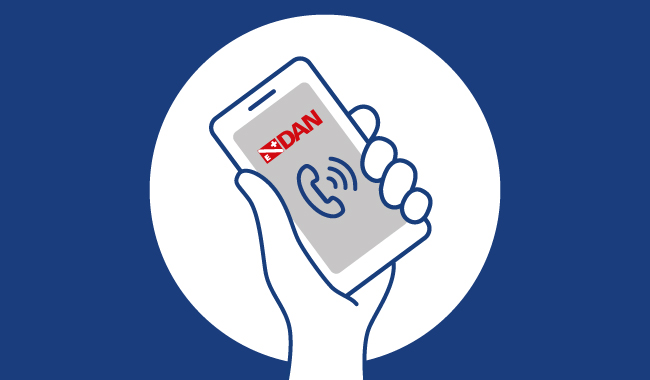 Chcete-li kontaktovat kancelář DAN Continental Europe, zavolejte na +39-085-893-0333
Pokud se nacházíte v zemi uvedené v níže uvedeném seznamu, využijte našich místních telefonních čísel.
Služba je k dispozici v angličtině, francouzštině, němčině, holandštině, italštině, španělštině a polštině.

Tato služba je založená na VoIP. Kvalita hovoru závisí na výkonu internetového připojení.

V případě naléhavých zdravotních situací, klikněte sem. Hovory jsou obvykle přijímány od pondělí do pátku (9:00 až 17:00 - SEČ), kromě 1/1, 6/1, velikonočního pondělí, 25/4, 1/5, 2/6, 15/8, 1/11, 8/12 a 25-26/12.
Vybrat zemi
nebo AUTOMATICKÝ VÝBĚR
DAN EUROPE
Territory: Geographical Europe, the countries of the Mediterranean Basin, the countries on the shores of the Red Sea, the Middle East including the Persian Gulf, the countries on the shores of the Indian Ocean north of the Equator and West of India and Sri Lanka, as well as the related overseas territories, districts, and protectorates
Postal Address: Continental Operations Office: C/da Padune, 11 - 64026 Roseto - Italy
Registered Address: DAN Building, Level 4, Sir Ugo Mifsud Street, Ta' Xbiex, XBX 1431, Malta
DAN
America
Territory: United States and Canada, with regional IDAN responsibility for Central and South America, the Caribbean, Polynesia, Micronesia and Melanesia (except Fiji), and any other area not designated for the other DAN entities
Address: The Peter B. Bennett Center, 6 West Colony Place, Durham, NC 27705, USA
DAN
Southern Africa
Territory: Austral Africa, Comoros, Madagascar, Seychelles Islands, plus Kenya and Zanzibar (for residents only, European expatriates refer to DAN Europe).
Address: DAN-SA Building, Rosen Office Park, Cnr Invicta & 3rd Roads - Halfway Gardens - Midrand
DAN
Japan
Territory: Japanese mainland and islands, with regional IDAN responsibility for Northeast Asia-Pacific
Address: TDAN JAPAN/Japan Marine Recreation Association Kowa-Ota-Machi Bldg,2F, 47 Ota-machi 4-Chome Nakaku, Yokohama City, Kagawa 231-0011 Japan
DAN
Asia Pacific
Territory: Australia and New Zealand, with regional IDAN responsibility for Papua New Guinea, Fiji, Indonesia, Malaysia, Vietnam, Singapore, Cambodia, Myanmar, Philippines, Vanuatu, Solomon Islands, Brunei, Thailand, Hong Kong, Korea, China and Taiwan
Address: 49A Karnak Rd, Ashburton, Victoria 3163, Australia.
Postal Address: PO Box 384 Ashburton, Vic. 3147, Australia.