Jeśli masz jakieś pytania, zapraszamy cię najpierw do odwiedzenia naszej strony FAQ.
Jeśli nie znajdziesz tam odpowiedzi na swoje pytania, użyj formularza umieszczonego poniżej i wyślij nam e-mail: wybierz obszar/dział z którym chcesz się skontaktować, a my odpowiemy najszybciej jak to możliwe.
---

SYTUACJA AWARYJNA

PORADY MEDYCZNE
Wyspecjalizowane porady medyczne są dostępne wyłącznie dla aktywnych członków DAN.
Na wiadomości e-mail odpowiadamy normalnie od poniedziałku do piątku (9:00 do 17:00 CET) za wyjątkiem dni: 1/1, 6/1, Poniedziałek Wielkanocny, 25/4, 1/5, 2/6, 15/8, 1/11, 8/12 i 25-26/12. Rozumiemy, że potrzebujesz uzyskać odpowiedź na swoje pytania szybko. Zazwyczaj odpowiadamy w ciągu 2 dni roboczych. Czasami może nam to zająć więcej czasu, aby uzyskać kompletną odpowiedź. Jeśli nie odpowiemy w ciągu 5 dni roboczych, prosimy skontaktować się z nami ponownie: możliwe, że nie otrzymaliśmy twojego e-maila.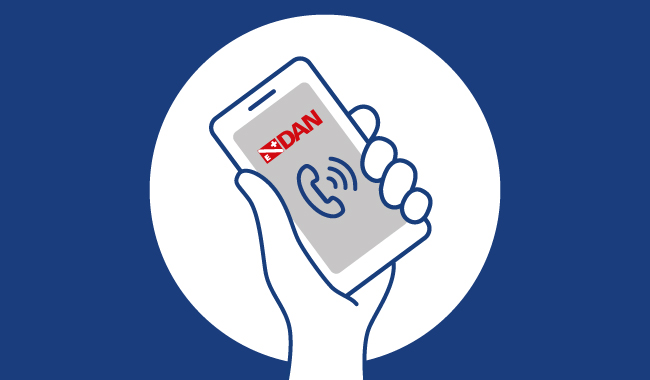 Aby skontaktować się z biurem DAN Continental Europe, zadzwoń pod numer +39-085-893-0333
Jeśli przebywasz w kraju wymienionym na liście poniżej, skorzystaj z naszych lokalnych numerów telefonów.
Usługa jest dostępna w języku angielskim, francuskim, niemieckim, holenderskim, włoskim, hiszpańskim i polskim.

Ta usługa bazuje na technologii VoIP. Jakość rozmowy zależy od przepustowości łącza internetowego.

W razie nagłego wypadku medycznego, kliknij tutaj. Zazwyczaj odbieramy telefon od poniedziałku do piątku (od godziny 9 do 17) oprócz 01.01, 06.01, poniedziałku wielkanocnego, 25.04, 01.05, 02.06, 15.08, 01.11, 08.12 i 25-26.12.
Wybierz kraj
lub ZNAJDŹ AUTOMATYCZNIE
DAN EUROPE
Territory: Geographical Europe, the countries of the Mediterranean Basin, the countries on the shores of the Red Sea, the Middle East including the Persian Gulf, the countries on the shores of the Indian Ocean north of the Equator and West of India and Sri Lanka, as well as the related overseas territories, districts, and protectorates
Postal Address: Continental Operations Office: C/da Padune, 11 - 64026 Roseto - Italy
Registered Address: DAN Building, Level 4, Sir Ugo Mifsud Street, Ta' Xbiex, XBX 1431, Malta
DAN
America
Territory: United States and Canada, with regional IDAN responsibility for Central and South America, the Caribbean, Polynesia, Micronesia and Melanesia (except Fiji), and any other area not designated for the other DAN entities
Address: The Peter B. Bennett Center, 6 West Colony Place, Durham, NC 27705, USA
DAN
Southern Africa
Territory: Austral Africa, Comoros, Madagascar, Seychelles Islands, plus Kenya and Zanzibar (for residents only, European expatriates refer to DAN Europe).
Address: DAN-SA Building, Rosen Office Park, Cnr Invicta & 3rd Roads - Halfway Gardens - Midrand
DAN
Japan
Territory: Japanese mainland and islands, with regional IDAN responsibility for Northeast Asia-Pacific
Address: TDAN JAPAN/Japan Marine Recreation Association Kowa-Ota-Machi Bldg,2F, 47 Ota-machi 4-Chome Nakaku, Yokohama City, Kagawa 231-0011 Japan
DAN
Asia Pacific
Territory: Australia and New Zealand, with regional IDAN responsibility for Papua New Guinea, Fiji, Indonesia, Malaysia, Vietnam, Singapore, Cambodia, Myanmar, Philippines, Vanuatu, Solomon Islands, Brunei, Thailand, Hong Kong, Korea, China and Taiwan
Address: 49A Karnak Rd, Ashburton, Victoria 3163, Australia.
Postal Address: PO Box 384 Ashburton, Vic. 3147, Australia.