Avez-vous déjà visité la section FAQ de notre site?
Si vous ne trouvez pas les information que vous cherchez, veuillez utiliser le formulaire ci-dessous pour envoyer un e-mail à DAN : choisissez le service/département que vous souhaitez joindre et nous vous contacterons dès que possible.
---

URGENCE
Pour les urgences médicales cliquez ici.

CONSULTATION MÉDICALE
La consultation médicale spécialisée est un service réservé aux membres de DAN en statut actif.
Normalement, on répond aux e-mails du lundi au vendredi (9-17 CET), sauf le 1/1, 6/1, Lundi de Pâques, 25/4, 1/5, 2/6, 15/8, 1/11, 8/12 et 25-26/12. Nous comprenons la nécessité d'obtenir des réponses à vos questions le plus vite possible. Nous répondons généralement dans un délai de 2 jours ouvrables. Parfois, il va falloir plus de temps pour fournir une réponse complète. Si vous n'avez pas reçu une réponse dans les 5 jours ouvrables, veuillez nous contactez à nouveau, car il est possible que votre e-mail n'a pas été reçu.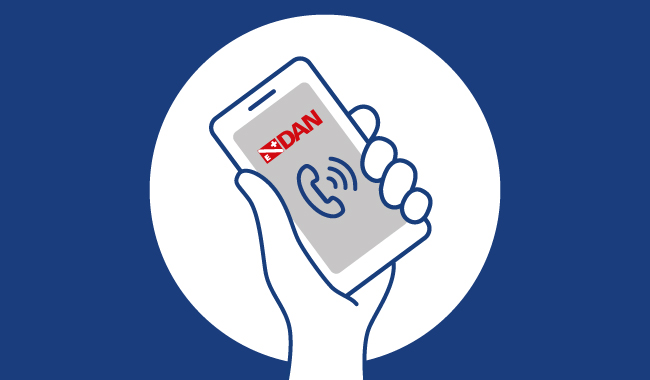 Pour contacter le bureau de DAN Europe, veuillez appeler le +39-085-893-0333
Si vous vous situez dans un des pays de la liste ci-dessous, profitez de nos numéros de téléphone locaux.
Ce service est disponible en anglais, français, allemand, néerlandais, italien, espagnol et polonais.

Ce service est basé sur la technologie VoIP. La qualité des appels peut varier en fonction du débit de la connexion internet.

Pour les urgences médicales, cliquez ici. Les appels sont traités du lundi au vendredi (de 9h00 à 17h00 - heure de Paris), à l'exception du 01/01, 06/01, lundi de Pâques, 25/04, 01/05, 02/06, 15/08, 01/11, 08/12 et 25-26/12.
Sélectionnez un pays
Ou AUTO DÉTECTION
DAN EUROPE
Territory: Geographical Europe, the countries of the Mediterranean Basin, the countries on the shores of the Red Sea, the Middle East including the Persian Gulf, the countries on the shores of the Indian Ocean north of the Equator and West of India and Sri Lanka, as well as the related overseas territories, districts, and protectorates
Postal Address: Continental Operations Office: C/da Padune, 11 - 64026 Roseto - Italy
Registered Address: DAN Building, Level 4, Sir Ugo Mifsud Street, Ta' Xbiex, XBX 1431, Malta
DAN
America
Territory: United States and Canada, with regional IDAN responsibility for Central and South America, the Caribbean, Polynesia, Micronesia and Melanesia (except Fiji), and any other area not designated for the other DAN entities
Address: The Peter B. Bennett Center, 6 West Colony Place, Durham, NC 27705, USA
DAN
Southern Africa
Territory: Austral Africa, Comoros, Madagascar, Seychelles Islands, plus Kenya and Zanzibar (for residents only, European expatriates refer to DAN Europe).
Address: DAN-SA Building, Rosen Office Park, Cnr Invicta & 3rd Roads - Halfway Gardens - Midrand
DAN
Japan
Territory: Japanese mainland and islands, with regional IDAN responsibility for Northeast Asia-Pacific
Address: TDAN JAPAN/Japan Marine Recreation Association Kowa-Ota-Machi Bldg,2F, 47 Ota-machi 4-Chome Nakaku, Yokohama City, Kagawa 231-0011 Japan
DAN
Asia Pacific
Territory: Australia and New Zealand, with regional IDAN responsibility for Papua New Guinea, Fiji, Indonesia, Malaysia, Vietnam, Singapore, Cambodia, Myanmar, Philippines, Vanuatu, Solomon Islands, Brunei, Thailand, Hong Kong, Korea, China and Taiwan
Address: 49A Karnak Rd, Ashburton, Victoria 3163, Australia.
Postal Address: PO Box 384 Ashburton, Vic. 3147, Australia.