Jos sinulla on jotain kysyttävää, käy ensin FAQ-sivullamme.
Jos et löydä vastausta, ole hyvä ja käytä alla olevaa lomakketta lähettääksesi sähköpostia DANille. Valitse ala/osasto, johon haluat olla yhteydessä. Me vastaamme sinulle mahdollisimman pian.
---

HÄTÄTILANNE
Jos kyseessä on lääketieteellistä apua vaativa hätätapaus, klikkaa tästä.

LÄÄKETIETEELLINEN NEUVO
Niille, joilla on voimassa oleva DANin jäsenyys, on tarjolla ammattilaisapua.
Sähköpostiviesteihin vastataan tavallisesti maanantaista perjantaihin (9.00 - 17.00 CET), paitsi 1.6., 1.1., Pääsiäismaanantai, 25.4., 1.5., 2.6., 15.8., 1.11., 8.12. ja 25. -26.12. Ymmärrämme, että haluat saada kysymyksiisi nopean vastauksen, ja vastaamme sinulle yleensä 2 työpäivän kuluessa. Joskus oikean vastauksen löytäminen saattaa viedä kauemmin. Jos et saa meiltä minkäänlaista vastausta, kun kysymyksen lähettämisestä on kulunut 5 työpäivää, ota ystävällisesti meihin uudelleen yhteyttä. Ehkä sähköpostiviestisi ei ole tullut perille.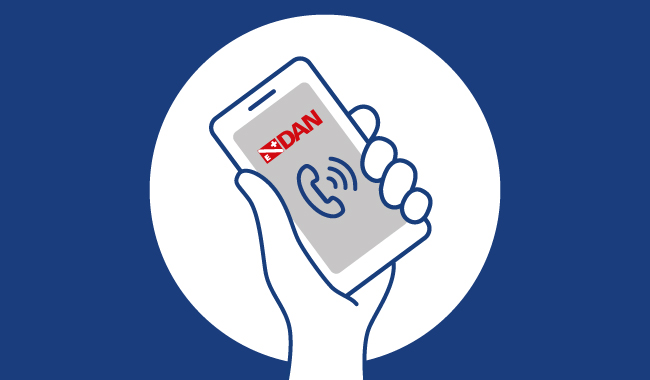 Kun haluat olla yhteydessä DANin Manner-Euroopan toimistoon, soita numeroon +39-085-893-0333
Jos olet jossakin alla olevaan luetteloon sisältyvistä maista, hyödynnä paikallisia puhelinnumeroitamme.
Palvelemme seuraavilla kielillä: englanti, ranska, saksa, hollonti, italia, espanja ja puola.

Kyseessä on VoIP-puhelinjärjestelmään pohjautuva palvelu. Puhelun laatu riippuu siitä, kuinka hyvin internetyhteys toimii.

Lääketieteellisissä hätätilanteissa klikkaa tästä. Soittoihin vastataan tavallisesti maanantaista perjantaihin (9.00 - 17.00 CET) lukuun ottamatta 1.1., 6.1., pääsiäismaanantaita, 25.4., 1.5., 2.6., 15.8, 1.11., 8.12. ja 25. - 26.12.
Valitse maa
tai AUTOMAATTINEN TUNNISTUS
DAN EUROPE
Territory: Geographical Europe, the countries of the Mediterranean Basin, the countries on the shores of the Red Sea, the Middle East including the Persian Gulf, the countries on the shores of the Indian Ocean north of the Equator and West of India and Sri Lanka, as well as the related overseas territories, districts, and protectorates
Postal Address: Continental Operations Office: C/da Padune, 11 - 64026 Roseto - Italy
Registered Address: DAN Building, Level 4, Sir Ugo Mifsud Street, Ta' Xbiex, XBX 1431, Malta
DAN
America
Territory: United States and Canada, with regional IDAN responsibility for Central and South America, the Caribbean, Polynesia, Micronesia and Melanesia (except Fiji), and any other area not designated for the other DAN entities
Address: The Peter B. Bennett Center, 6 West Colony Place, Durham, NC 27705, USA
DAN
Southern Africa
Territory: Austral Africa, Comoros, Madagascar, Seychelles Islands, plus Kenya and Zanzibar (for residents only, European expatriates refer to DAN Europe).
Address: DAN-SA Building, Rosen Office Park, Cnr Invicta & 3rd Roads - Halfway Gardens - Midrand
DAN
Japan
Territory: Japanese mainland and islands, with regional IDAN responsibility for Northeast Asia-Pacific
Address: TDAN JAPAN/Japan Marine Recreation Association Kowa-Ota-Machi Bldg,2F, 47 Ota-machi 4-Chome Nakaku, Yokohama City, Kagawa 231-0011 Japan
DAN
Asia Pacific
Territory: Australia and New Zealand, with regional IDAN responsibility for Papua New Guinea, Fiji, Indonesia, Malaysia, Vietnam, Singapore, Cambodia, Myanmar, Philippines, Vanuatu, Solomon Islands, Brunei, Thailand, Hong Kong, Korea, China and Taiwan
Address: 49A Karnak Rd, Ashburton, Victoria 3163, Australia.
Postal Address: PO Box 384 Ashburton, Vic. 3147, Australia.