Educational Dive Centre Opens in Malta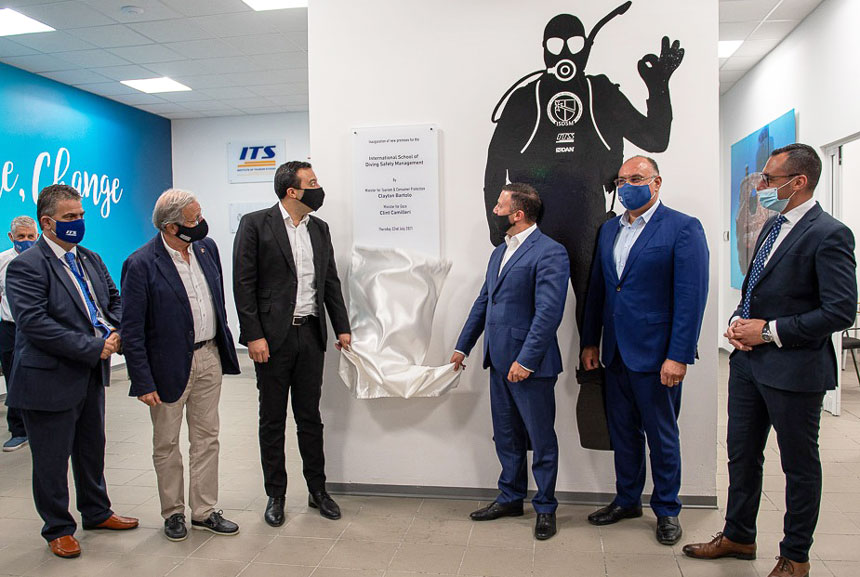 The International School of Diving Safety and Medicine inaugurate their new premises.
Qala, Gozo, 12 August 2021 - The International School of Diving Safety and Medicine (ISDSM) just opened their new premises at the Institute of Tourism Studies (ITS) campus in Qala, Gozo, Maltese Islands. The opening was marked by a press conference held last July 22nd, with the participation of the Minister for Tourism and Consumer Protection, the Minister for Gozo, and officials from ITS, DAN Europe, and PADI.
The new premises represent a nearly €60,000 investment, which includes top-notch diving and diving safety equipment, some of which are the only of their kind on the Maltese islands.
The ISDSM, which was launched in 2017, is a joint agreement between ITS and DAN Europe in collaboration with the Professional Diving Schools Association (PDSA), and aims at promoting a broad academic education program by designing specific course curricula in the field of Diving Safety, Research and Medicine, focusing on the sustainability of the diving industry.
In fact, through the ISDSM, a Bachelor of Science in Diving Safety Management was launched in 2020, with practical sessions being held within these ITS premises in Gozo being inaugurated today. The pioneer BSc in Diving Safety Management generated a great interest on an international level since its first academic year.
On the same day an MOU was also signed with PADI Worldwide, world leader in recreational scuba diving training, to establish valuable and productive relationship to advance academic studies and credentials within the diving industry.
"It is amazing to see this project grow year by year - said DAN Europe CEO & Founder, Prof. Alessandro Marroni. Even in a time of much uncertainty like the one we're living in, opening a centre like this adds to the value that the ISDSM holds within the industry. The Bachelor continues to be an ambitious, internationally unique, and unprecedented academic program. A point of reference for all those seeking to become more efficient, safer, and customer-friendly diving centre managers".
Mark Caney (PADI Industry Relations & Training Executive) declared that they are very pleased that PADI has been selected as the diver certification system to be awarded to students reading for the Bachelor of Science in Diving Safety Management, and they are confident that they will be able to contribute to the graduates' success.
During the event, it was announced that during the coming weeks, diving centres will be offered a free course on Air Quality in diving cylinders and compressors. These courses are possible thanks to the equipment invested in the ISDSM premises at the ITS campus in Gozo.
---
Learn more about the International School of Diving Safety and Medicine (ISDSM).
Apply for the Bachelor of Science in Diving Safety Management.