¿Ya has consultado nuestras PP.FF.?
Si no has encontrado ahí la información que buscas, utiliza el formulario al lado para enviar un correo electrónico a DAN: elige el área / departamento con el que deseas comunicarte y contactaremos contigo tan pronto nos sea posible.
---

EMERGENCIA
Para emergencias médicas, clica aquí.

CONSULTIVO MÉDICO
El consejo consultivo médico especialista es un servicio reservado a los afiliados a DAN activos.
Normalmente, los mensajes de correo electrónico serán contestadas de lunes a viernes (de 9h. a 17:00h - CET), salvo el 01.01, 06.01, Lunes de Pascua, 25.04, 01.05, 02.06, 15.08, 01.11, 08.12 y 25-26.12. Somos conscientes que necesitas obtener respuestas a tus preguntas lo antes posible. Normalmente respondemos dentro de 2 días laborales. A veces, nos puede tomar más tiempo para dar una respuesta completa. Si no has recibido una respuesta en el plazo de 5 días laborales, por favor póngate en contacto con nosotros de nuevo: es posible que no hemos recibido tu correo electrónico.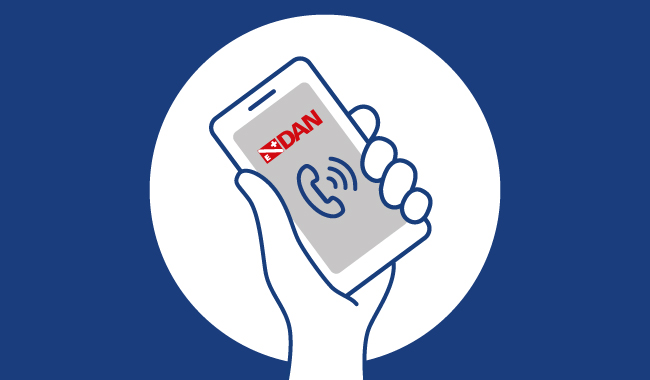 Para contactar con la oficina de DAN Continental Europe, llame al +39-085-893-0333
Si se encuentra en un país incluido en la lista siguiente, aproveche nuestros números de teléfono locales.
El servicio está disponible en inglés, francés, alemán, holandés, italiano, español y polaco.

Este es un servicio basado en VoIP. La calidad de la llamada depende de las prestaciones de la conexión a Internet.

Para emergencias médicas, haga clic aquí. Las llamadas se atienden normalmente de lunes a viernes (de 9 a 17 horas - CET), excepto los días 1/1, 6/1, lunes de Pascua, 25/4, 1/5, 2/6, 15/8, 1/11, 8/12 y 25-26/12.
Elige el país
o AUTO SELECCIONA
DAN EUROPE
Territory: Geographical Europe, the countries of the Mediterranean Basin, the countries on the shores of the Red Sea, the Middle East including the Persian Gulf, the countries on the shores of the Indian Ocean north of the Equator and West of India and Sri Lanka, as well as the related overseas territories, districts, and protectorates
Postal Address: Continental Operations Office: C/da Padune, 11 - 64026 Roseto - Italy
Registered Address: DAN Building, Level 4, Sir Ugo Mifsud Street, Ta' Xbiex, XBX 1431, Malta
DAN
America
Territory: United States and Canada, with regional IDAN responsibility for Central and South America, the Caribbean, Polynesia, Micronesia and Melanesia (except Fiji), and any other area not designated for the other DAN entities
Address: The Peter B. Bennett Center, 6 West Colony Place, Durham, NC 27705, USA
DAN
Southern Africa
Territory: Austral Africa, Comoros, Madagascar, Seychelles Islands, plus Kenya and Zanzibar (for residents only, European expatriates refer to DAN Europe).
Address: DAN-SA Building, Rosen Office Park, Cnr Invicta & 3rd Roads - Halfway Gardens - Midrand
DAN
Japan
Territory: Japanese mainland and islands, with regional IDAN responsibility for Northeast Asia-Pacific
Address: TDAN JAPAN/Japan Marine Recreation Association Kowa-Ota-Machi Bldg,2F, 47 Ota-machi 4-Chome Nakaku, Yokohama City, Kagawa 231-0011 Japan
DAN
Asia Pacific
Territory: Australia and New Zealand, with regional IDAN responsibility for Papua New Guinea, Fiji, Indonesia, Malaysia, Vietnam, Singapore, Cambodia, Myanmar, Philippines, Vanuatu, Solomon Islands, Brunei, Thailand, Hong Kong, Korea, China and Taiwan
Address: 49A Karnak Rd, Ashburton, Victoria 3163, Australia.
Postal Address: PO Box 384 Ashburton, Vic. 3147, Australia.